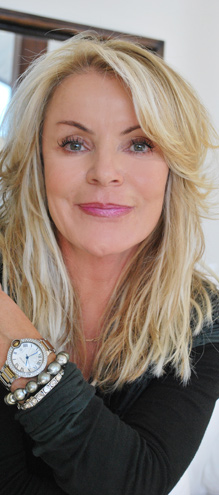 Workshops and Seminars
Bobi Leonard's Interior Design Success Workshop. Interior design is a booming field, perfect for anyone with a passion for creativity and the drive to become rich! Interior designer to the stars and TV personality, Bobi will teach you everything you need to know from writing a business plan to negotiating with celebrity clients. Bobi has graduated hundreds of students from the only workshop series to help interior designers master the business aspects of interior design and create a profitable business.
Workshop Topics:
Create a successful business plan
Master the Art of Negotiating with clients and vendors
Turn small jobs into jobs that makes big money
Attract high-profile clients
Contracts and agreements to protect you
How to find great sources
Market yourself and your business
Have fun and make money pursuing your passion
Contact us for more information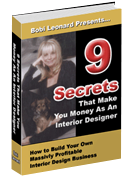 Make You Money As An Interior Designer

In just a few moments, I'm going to reveal how you can be among a small handful of highly successful interior designers…so read this letter very carefully. I guarantee this is unlike anything you may have seen or read before. In fact, I'm going to expose to you PROVEN, money making tips that only the top interior designers know.
Bobi Leonard's Design Business Success Workbook

Interior Designer Bobi Leonard has been an interior designer for over 30 years in Malibu, California. Her A-list clients include Candace Bergen, Sylvester Stallone, Arnold Schwarznegger, Robert Redford and Englebert Humperdink. In this workbook, Bobi shares all her resources to help you become an extraordinary interior designer.
Make Money as a Designer
Are You Ready For Your Solution to Make All The Money You Need in Your Interior Design Business, Without Pushing so Hard
What Every Interior Designer Needs to Know to Avoid the Pitfalls That Can Cost You Money, Time and Even Your Reputation!

Projects

Commercial Projects:
The Houston Cotton Exchange, Houston, TX
The Sports Connection, Beverly Hills, CA
Jag Stores, Inc. Beverly Hills, CA
Scarsdale Beauty Design Center, Brentwood, CA
Beverly Comstock Hotel, Westwood, CA
Noah's Ark International Hotels, Tokyo, Japan
Casa La Pita Restaurants, Seattle, Toronto, Colorado
So Much & Co., Sunset Plaza, Los Angeles, CA
Wellcorp International, Reno, NV
Eugenia's Boutique, Westwood, CA
Tishman Building Law Offices, Beverly Hills, CA
Residential Projects:
Candice Bergen, Beverly Hills, CA
Marcus Allen, Brentwood, CA
Robert Redford, Malibu, CA
Beverly Sassoon, Beverly Hills, CA
Sue Lindley; c/o Nina Ricci, New York, NY
Englebert Humperdink, Holmby Hills, CA
Robert Geddes, Palm Desert, CA
Burt Young, Beverly Hills, CA
Ted Howells, Huntington Palisades, CA
Jeffrey & Tina Mandell, Santa Monica, CA
Barry Weitz, Beverly Hills, CA
Gil Gerard, Marina Del Rey, CA

Organizations and Awards



©2012 Bobi Leonard Living - All rights reserved